Hurray, for there IS a brave American actress who won't go under the knife! Salma Hayek has a natural, makeup-free beauty--a self-assured confidence in her looks, and an acceptance of who she is as a woman, physically, emotionally, etc. Embrace aging, she says, enhance and accept it...but not through plastic surgery.
This is actually one of the few, good articles from an American publication regarding aging beautifully, as most revolve around injections and surgery. It's very depressing to say, but the psyche of the American woman is so wrapped up with vanity and outer beauty. But it is really the inner beauty that shines through, the glow that accompanies someone who is comfortable in her own skin. Pun intended.
Salma Hayek on Plastic Surgery: 'It's Not Beautiful'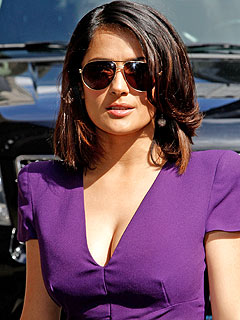 Salma Hayek understands the desire to stop the aging process, but she says beauty, as you get older, is something to be brought out and enhanced, not manufactured by a doctor.
"I believe that every woman is entitled to fight to preserve her youth," the actress, 44, tells
Allure
in its September issue, on newsstands Aug. 23.
Just not through plastic surgery. "It's like the uniform of a generation," she says. "And it's not necessarily beautiful. It's not wrinkled-looking, but it's not beautiful."
The Oscar nominee freely admits that she's showing signs of aging. Asked whether any part of her body looked better 10 years ago, she replies with a laugh: "My boobs. They're not bad, by the way. I'm not complaining about them."
Yet she radiates youth, partly because she's been applying "creams" her whole life, she says. This summer, she even launched a beauty line, Nuance, which in many ways is a tribute to her grandmother, who studied to be a beautician.
"She started working on my skin when I was 12 or 13," Hayek says. "I never used soap on my face. Once, she shaved our heads and put egg on it and all these things. But I have to give her credit – my hair is great."
The philosophy behind the new products, sold at CVS, is that "within you there is beauty, and you have to learn how to find it and enhance it in a natural way," Hayek adds. "One thing that is exciting about being a woman is that you can rediscover your beauty over and over and over."
One other advantage, she says, for women as they get older: They can get sexier.
"As a woman, you should be more at ease with your sexuality when you are in your 40s," she says. "You are more self-assured about that part. And that's the way it should be. If you are a girl who cannot walk in heels, it doesn't matter how beautiful you are. If you look like a chicken that's been spiked in the feet, it's not going to be sexy."
Article link:
http://www.people.com/people/article/0,,20519156,00.html